Not sure what the process is in HostGator to add an SSL certificate? Here's your 7-step process
An SSL certificate enables encrypted data to transmit between two parties — typically, a user's browser and the website's server. It removes the "Not Secure" warning message and displays a padlock symbol in front of the domain name in the address bar. While understanding what an SSL certificate does is great, it's another thing entirely to understand how to install an SSL certificate in HostGator so you can actually use one.
That's why we've put together this step-by-step resource, which covers how to install an SSL certificate in HostGator specifically!
HostGator SSL Install: How to Install an SSL Certificate in HostGator in 7 Steps
Ready to see how easy it is to install an SSL certificate in HostGator? As you'll see, it's easy to do when you follow these seven easy to follow steps:
Step 1: Choose an SSL Certificate
You have three purchase options for your HostGator platform:
You can purchase an SSL certificate, such as a Comodo SSL certificate, from a third-party platform like CheapSSLsecurity.com starting for as little as $5.45 peryear. You can renew your certificate for as little as $5.45 per year)
You can purchase Comodo SSL certificate directly from HostGator, which starts at $19.99 for the first year and renews at $39.99 per year after that.
You can also choose the free SSL certificate. However, you won't get any warranty and or a site seal with the free SSL certificate.
Options one and two are preferable because commercial SSL certificates from certificate authorities come with warranties, site seals, and the reliability of trusted top brands like Comodo CA.
Step 2: Generate a Certificate Signing Request (CSR)
The next thing you'll want to do when working through the process of how to install an SSL certificate in HostGator is complete a certificate signing request. Generating this encoded text file, which contains info about the organization that requested the certificate, is mandatory as part of the SSL/TLS certificate issuance process.
During the CSR, you'll be asked to provide the following details. You must write the same address and organization information on this form that you provided at the time of buying the domain name and stored in your WHOIS records.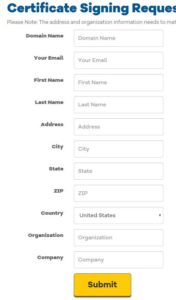 Step 3: Get Public and Private Keys
Once you submit the CSR form to HostGator, you'll receive a public key (CSR code) and private key (RSA key) via email. Be sure to save both of these codes as you'll need them in the future!
Anybody can easily access your domain's public key from the internet, so, you don't need to worry about its security. But your private key, on the other hand, needs to remain accessible to you alone! If your private key becomes compromised, your entire SSL certificate will be useless. So, please keep it safe in a password-protected document.
Step 4: Provide the CSR Code to the Certificate Authority
You need to provide the CSR code to the SSL certificate provider, i.e., either HostGator or the certificate authority (such as Comodo CA), or a third-party vendor like us.
Remember: Don't send your private key to any certificate authority or vendor.
Step 5: Complete the Validation Process
For this next step in the HostGator SSL installation process, you'll receive an email with the verification link from the certificate authority on email addresses like [email protected] or [email protected] (or something similar).
If you don't have an email address with your domain name's extension, you can opt for the file verification process. In this case, your CA will send you some files instead, which you'll need to upload on a specific folder on the server.
If you have bought organization validated (OV) or extended validated (EV) SSL certificates, you need to follow additional verification steps, too.
Step 6: Save the SSL Certificate
Once you complete the validation process, you'll receive an email containing an SSL certificate for your domain and other necessary files from the certificate authority.
You can expect to receive two main files in the email:
crt: This file contains your SSL certificate.
CA bundle: This file contains the CA's root certificate and intermediate root certificates.
Right-click on both of these files and open them with Notepad (or any other text editor). You'll see a bunch of codes. Be sure to save these files because you'll need these codes in the next step.
Step 7: Request for HostGator to Install the SSL Certificate
HostGator doesn't allow their customers to install the SSL certificate themselves. If you have Shared Web Hosting, Website Builder, WordPress Hosting, or reseller hosting plan, you need to complete an installation request form to get HostGator to install the SSL certificate on your server.
Of course, they don't always do this type of installation for free. There are a few levels of possible installation charges depending on your specific needs:
$10 for single-domain SSL certificate.
$25 for multidomain and wildcard SSL certificates with up to five domains (plus $5 for each additional domain).
Free for virtual private server (VPS) or dedicated server users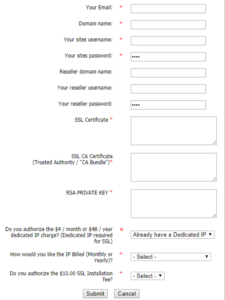 When completing the certificate installation request form, pay particular attention to these three fields:
SSL Certificate: Copy-paste contents of crt file, which you have saved in the text editor in the previous step, into this field. Be sure to include the "—–BEGIN CERTIFICATE—–" and "—–END CERTIFICATE—–" lines.
SSL CA Certificate: Copy and paste the content of the CA bundle.
RSA Private Key: Copy-paste the codes of RSA key (private key), which you have received from HostGator in step three.
Now, sit back and relax. You'll be notified when the HostGator team successfully installs the SSL certificate on your website. It's then that you'll see a padlock icon appear in front of your domain name in the browser's web address bar.
See? That's all you need to know about how to install an SSL certificate in HostGator!
Purchase a Wildcard SSL Certificate & Save Up to 73%!
We offer the best discount on all types of wildcard SSL Certificates with DV and OV validation. We offer wildcard certificates from the leading CAs, including Comodo CA, Sectigo, Thawte, GeoTrust, and RapidSSL starting for as little as $52.95 per year.