A quick, easy guide on how to check SSL certificate details in IE
Day by day, more and more internet users are getting familiar with the terms SSL Certificate and Encryption. This awareness comes down to the rising number of MITM attacks, data breaches, phishing attacks etc. As a result, users have come to know how important having HTTPS is for their own security. When it comes to online shopping, 85% of users avoid unsecured or non-HTTPS websites.
One can easily recognize if a website is SSL-enabled or not by identifying signs like HTTPS, the padlock icon, the green address bar etc. However, for some users, this is not enough. They might want to dig deeper into the SSL certificate details of a website, but they might not know how to do it. Well, we are happy to help you. This blog will guide you on how to view SSL certificate details in internet Explorer.
Being the default browser in many of Windows' operating systems, there is a large population using Internet Explorer—even if it's not always willing to admit it. Going by the latest numbers, IE is only behind Chrome and Firefox. Therefore, we hope this blog will help a vast audience check the SSL details of websites to make sure that they are protected.
Follow the below given step-by-step instructions to view SSL certificate information in Internet Explorer 11.
HERE'S HOW YOU VIEW SSL CERTIFICATE DETAILS IN INTERNET EXPLORER
Step 1: Go to any SSL enabled website.
Step 2: Click on the padlock from the address bar.
Now a note will appear. It will display "Your connection to the server is encrypted." Apart from that, it will display the issuer name and the Website URL.
If the website has been protected using extended validation (EV) SSL certificate, it will also display the name of the organization. Refer the below images for it.
DV SSL Certificate Information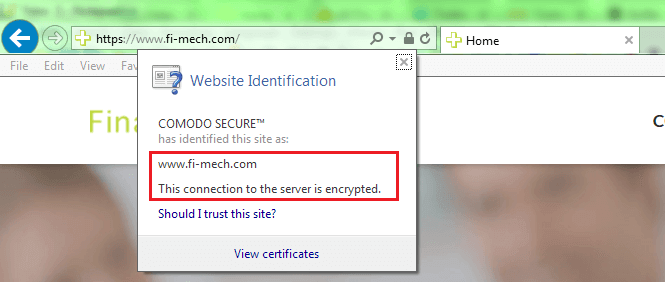 EV SSL Certificate Information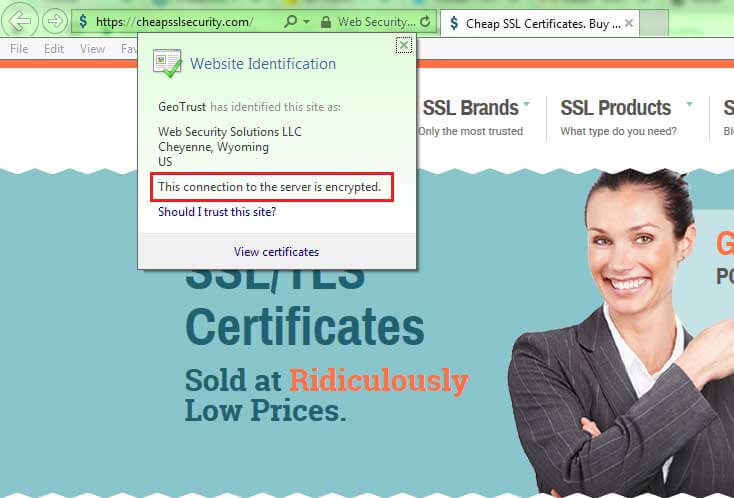 Step 3: Click on View Certificates to check the details of the SSL certificate.
A window displaying SSL certificate details will appear.
SSL Certificate Information in The Browser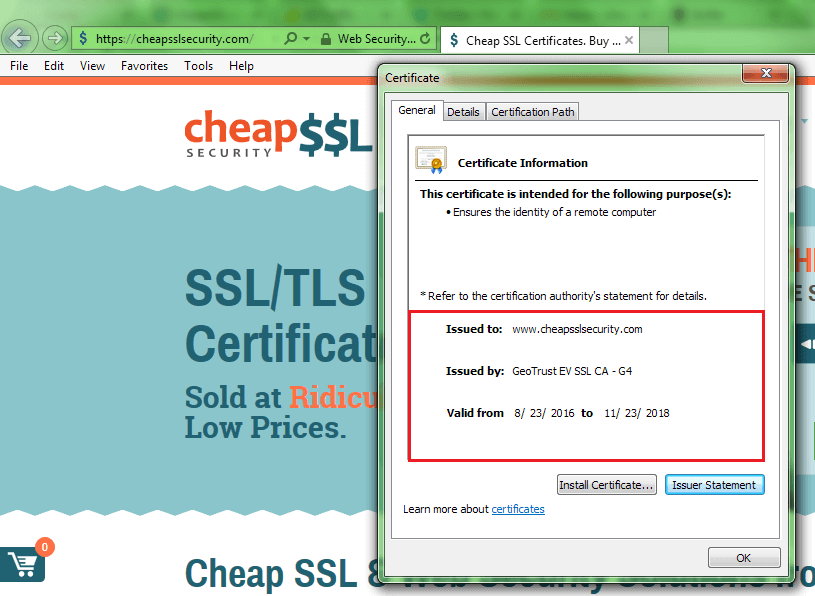 As shown in the image above, this window has three tabs — General, Details & Certificate Path.
The General tab displays issuer website URL, issued by (CA Name), and validity period.
The Detailed tab displays SSL version, serial number, signature algorithm, signature hash algorithm, issuer information, validity period, CSR information, public key, SAN Details (if any) etc.
The Certificate Path tab displays the certificate path followed by the CA certificate, intermediate certificate, and server certificate.
LAST WORD
Now that you know how to check SSL certificate details in Internet Explorer, make sure that the website is SSL protected before entering any of your confidential information or before making any transactions.
Important Resources
Buy SSL Certificate at a Cheap Price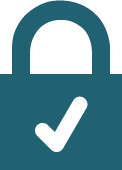 Buy EV, OV, DV, Multi-Domain and Wildcard SSL Certificate with the highest discount rates of 87% from world's leading SSL reseller CheapSSLsecurity.