SSL Installation becomes easy if user keeps in mind about now to make these mistakes
These days, choosing an appropriate SSL certificate as a website owner has become more challenging than ever. However, with dozens of certificate authorities and various types of SSL certificates available on the market, SSL users cannot be blamed for mistakes they might make while choosing one for their website.
Getting an SSL certificate installed on a website generally consists of three main phases:
Pre-Installation Research
Installation Procedure
Post-Installation Procedures
SSL certificate users are prone to commit mistakes during all three phases mentioned above. The following is our guide that you can use as a checklist during the entire SSL installation process.
A] Pre-Installation Mistakes
This happens to be a highly error-prone zone for SSL users, especially first-timers. Numerous factors are involved here like type of certificates, their properties, and certificate authorities tend to overwhelm beginners to an extent of making them commit mistakes. The following are the most common mistakes committed by users in the pre-installation phase:
I) Choosing an inappropriate SSL certificate: Users need to remember two things in particular while choosing an SSL certificate for their website: a] First of all, any newly introduced variety of SSL certificate on the market is not the ultimate option; b] Secondly, the SSL chosen by your friend, for his website should not be a default choice for you. In both the cases, users need to undertake a little research in terms of matching the key features offered by the certificate with their needs.
In fact, it is highly recommended for the users to go through all the types of SSL certificates and their characteristics meticulously and gauge how beneficial that SSL certificate would be for their websites.
Please click here to explore all the varieties of SSL certificates.
II) Choose a Certificate Authority Irresponsibly: Choosing a CA in haste ends up creating a big problem with the entire installation procedures. Because having an authentic CA of good repute is very important for a website to create an impression of safety and authenticity among visitors, which ultimately enhances your online business identity/ reputation.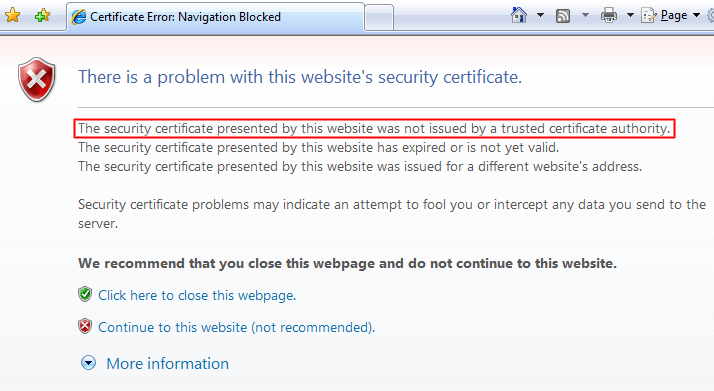 III) Ignoring the Compatibility factor: Before purchasing an SSL certificate, all SSL users have to be aware about the configuration of their hardware and software. After which, they are supposed to check the SSL's compatibility.
IV) Using Self-Signed certificates for an e-commerce website: These 'free of cost' certificates are just perfect, if as a user, you apply them on a commercial website that does not have to build sound reputation among the visitors.
Using a 'self-signed' certificate tends to generate a security warning by web servers every time a visitor lands on such websites. These warning windows are enough to affect business by scaring away visitors (i.e. potential customers). However, if we talk about using these self-signed certificates on an e-commerce website, it actually ends up costing more than the verified certificates by CAs, as the website suffer a noticeable loss in traffic.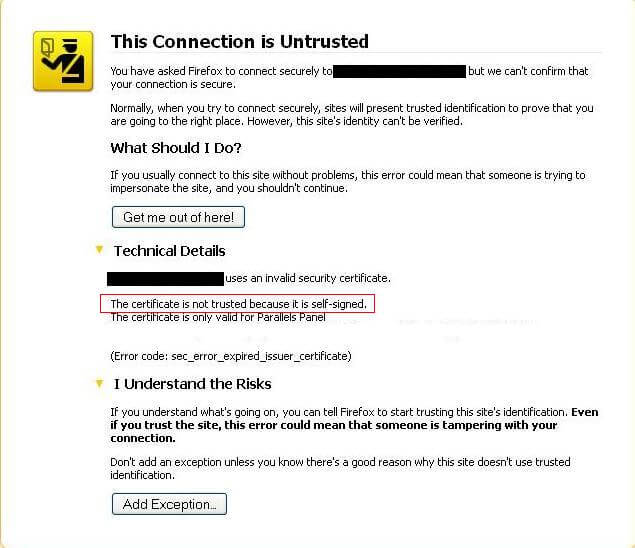 V) Come Unprepared to Buy an SSL: As a buyer, you will need to furnish specific information to the CAs before applying for a certificate. Coming unprepared to purchase the certificate will unnecessarily delay the installation. Therefore, users should be ready with all the needed information right before purchasing the certificate. Depending upon the type of SSL certificate you are choosing, you may have to submit:
Certificate Signing Request (CSR), a text generated on web-server before placing the order.
Physical address proof via database listings
Correct contact information in the WHOIS record to ensure that the user really owns the domain name.
Other financial, corporate or government documents like bank account statements, articles of incorporation, business licenses etc.
Photo IDs issued by the Government
B] Mistakes committed during the process
Committing mistakes in this phase is not limited just to newusers, as even experienced users tend to lose track sometimes while re-issuing or installing a new SSL certificate. Here are a few of the most common mistakes committed by users while installing an SSL certificate to their website:
I) Fumble between the Installation Steps: All the technical details involved in the 'Installation Procedure' of an SSL certificate may sometime confuse users, making them feel lost amid the process. It is at this point where 'impatience' takes over the users' mind and instead of carefully reading all the instructions related to the procedure, they simply starts clicking 'Yes' or 'No' without giving it a thought. This haste leads to several technical problems and ultimately results in an unsuccessful SSL installation.
Therefore, to install an SSL certificate successfully, users need to follow every step during the process very cautiously. In addition, users can alternatively choose and benefit from the advanced automated tools that help users streamline the whole process.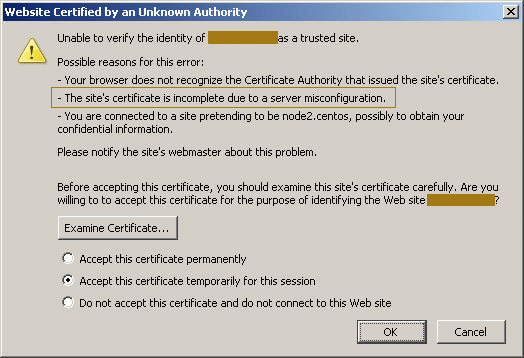 II) Incorrect CSR generation: As the names suggests, CSR is the fundamental request by an applicant to sign a certificate. Creating an invalid CSR can completely ruin the entire installation procedure, which is why it is very important to generate it carefully. Its process totally depends on the software being used.
III) Not checking the newly generated CSR: If a user does not check the newly generated CSR key in the initial phase of installation, things mess up in the later stages, if any error in the CSR goes unnoticed. To avoid this, users can quickly get through with the checking process by using convenient tools available on the web. You can visit this website to verify a CSR.

IV) Ignoring the security for the 'Private Key': Your CA gives you the private key to install on your system. This key unlocks the online communication that flows between the web browser and the web server; hence, it is of utmost importance for the user to maintain its security. Negligence in doing results in compromised private key that allows unauthorized users to access and steal the private information.
V) Avoid the 'Customer Support' provided by the CA: Committing mistakes is quite a common scenario in the case of SSL installation. However, silly errors can jeopardize the whole process if users fail to seek help from a qualified support team. Therefore, it is always advisable to contact your SSL provider in the case of any confusion or technical/manual errors.
C] Errors committed post-installation
Successful installation of an SSL certificate is just half job done. There are few important aspects, which the users tend to ignore, once they have installed the new certificate. Here are few errors that the users, new and old should avoid committing:
I) Not testing the 'Successfully' Installed SSL certificate: All users are supposed to check their site after installing an SSL certificate to confirm its successful installation. Users can rely on SSL tools like this, to make sure the certificate is installed properly.
II) Forgetting the SSL Renewal Date: Many users tend to forget the renewal date of their SSL certificate, which causes the business to suffer due to the absence of security. Even established companies like Yahoo, Google and Apple have committed this mistake.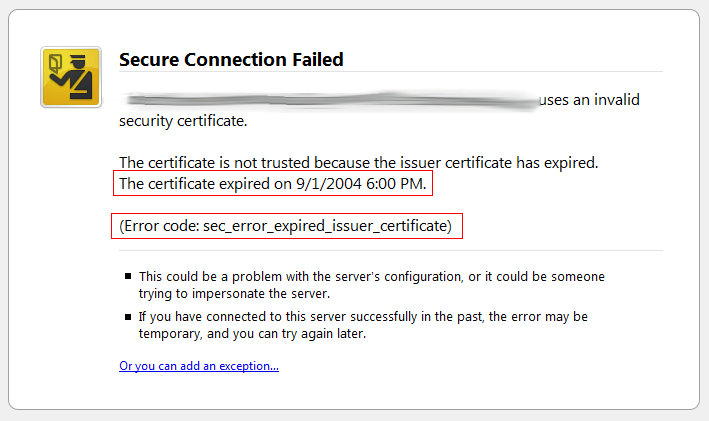 Installing an SSL certificate can be an error-free procedure even for beginners, provided that users practice vigilance during the entire process.
Affordable SSL Certificates
Get maximum discounts of up to 89% on DV SSL, OV SSL, Wildcard SSL, Multi-Domain SSL and EV SSL Certificates at CheapSSLsecurity. Boost up customer trust and secure their confidential information with high level encryption.
Important Resources to Learn