Comodo Unified Communications SSL Certificate & Microsoft Exchange Server: A Match Made in Heaven
With the increased use of social media, online banking, gaming, and cloud-based data storage, the need to secure information became an immediate necessity. Coming a long way from its initial introduction in 1996, SSL certificates have become the top choice in internet security boasting millions of websites security and encryption all over the globe.
SSL certificates come in many forms to fit your security needs, but generally, they can be categorized into three types:
Domain Validated SSL (DV) – Validates only domain ownership.
Organization Validated SSL (OV) – Validates domain ownership & organization existence.
Extended Validated SSL (EV) – Validates domain ownership & organization existence plus includes extended features such as Green Address Bar.
Special SSL Certificates – Certificate Authorities (CAs) also offer special certificates that go beyond the average user's needs.
Wildcard SSL Certificates – Secures an unlimited number of sub-domains at one specific domain level under one SSL certificate (i.e. *.example-domain.com)
Multi Domain SSL Certificate – Secures multiple fully qualified domain names under one certificate.
UCC SSL? What is it? Do I need it?
UCC (Unified Communications Certificate) is a multi-domain certificate that can secure a domain name known as the "common name" and multiple fully qualified domains known as "SAN" (Subject Alternative Name). UCC still offers the same solid 256-bit encryption as other certificates and is recognized by 99.9% of the web and mobile browsers.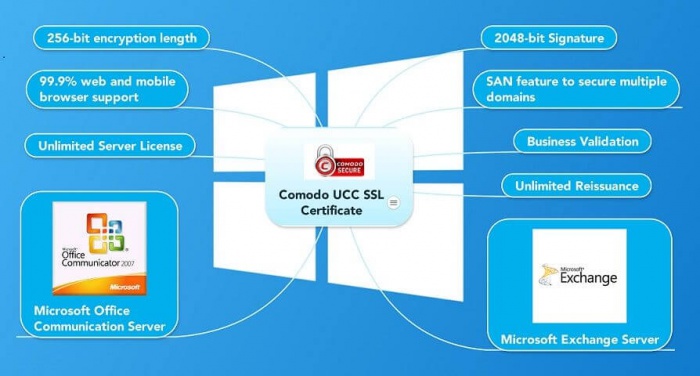 Why use Comodo UCC SSL Certificate for Microsoft Exchange & Office Communication Server?
Comodo has developed UCC especially for the security of Microsoft Exchange & Office Communication Server.  With one certificate you will be able to cover all domains on your Microsoft Exchange server(s).
Compatibility – Along with compatibility with Microsoft Exchange & Office communication servers, UCC SSL also supports "Auto discover" service for client administration.
The Comodo Trust – Comodo is a top leading SSL certificate provider, offering cost-effective solutions and a wide selection of products to secure the internet workspace.
Leading UCC Partner – Comodo is also a top UCC Partner of Microsoft.
Free SAN – Comodo UCC SSL comes up with 2 free SANs, which letting users to secure 3 domains by default using a single UCC.
Note: To secure more than 3 domains, users must purchase extra SAN Support from Comodo.
Buy Multi-Domain SSL or UCC SSL Certificates
Encrypt multiple websites on the multiple web servers with a single multi-domain SSL or UCC SSL certificate.
Comodo Unified Communications SSL Features and Benefits
Certificate management saves money and time
SAN feature to secure multiple domains
2048-bit Signature & 256-bit encryption length
99.9% web and mobile browser support
Compatible with both Microsoft Exchange & OCS
Unlimited Server License and Reissuance till the Certificate life Span
Full Business validation
Comodo Unified Communications SSL Certificate support following Microsoft Platforms
Exchange Server 2007 Standard and Enterprise Edition
Office Communications Server 2007 Standard & Enterprise Edition
Exchange Server 2010 Standard and Enterprise Edition
Lync Server 2010 Standard and Enterprise Edition
Lync Server 2013
Office Communications Server 2007 R2 Standard and Enterprise Edition
Unified Communications SSL Certificate installation
First Create CSR (Certificate Signing Request)
Save the CSR & Private Key
Complete the Certificate issuance process
Install the UCC SSL Certificate.
 Important Resources