IBM Domino web-server is an advanced product of IBM server. It was formerly known as Lotus® Domino. This web-server is widely used for hosting several social business applications and enterprise level e-mail collaboration. It is considered to be the low-cost solution to enhance productivity and speed up the operations.
Step-by-step guide to Install SSL Certificate on Lotus Domino (IBM Domino) web server
After completing the check-out process for the SSL certificate, you will receive an e-mail attached with a *.zip file from your certification authority. This file comprises of primary, intermediate and root certificates. You need to download and extract this *.zip file on your IBM Domino server directory where you intend to store all your certificates.
Before installing the SSL certificate, you need to generate a CSR (Certificate Signing Request). Please click here to generate a CSR. In case you have already generated a CSR then proceed with the steps given below:
To Install an SSL certificate on Lotus Domino server, you need to merge all your certificate files to the same Key Ring that was used to generate CSR (Certificate Signing Request).
Now proceed by inserting your certificates into the Key Ring in following order:
1. RootCertificate.crt
2. IntermediateCertificate.crt
3. PrimaryCertificate.crt
SSL Certificate Installation on IBM Domino (Lotus Domino) web server:
(1) Open the file 'Domino Server Certificate Administrator (CERTSRV.NSF)'. You can find this file in the system database in the 'Admin Panel' of Notes.
(2) Now proceed by clicking on Install Trusted Root Certificate into Key Ring and enter the file name of the Key Ring that you created while generating the CSR.
(3) You can install the Root Certificate using one of the following 3 ways:
(a) By selecting Root certificate file
(b) By typing the name and location of Root Certificate
(c) By selecting clipboard option, open your root certificate with any text editor copy content of your root certificate (From BEGIN Certificate _ _ _ _ _ _ to _ _ _ _ _ END Certificate) and paste it in the text box.
(4) Click on the Merge Certificate into Key Ring button.
(5) For installing the 'Intermediate certificate', open 'Install Trusted Root certificate' in Key Ring. Now, follow the above process again and install it in to the key ring.
(6) Click on 'Install certificate into Key Ring'. Enter the file name of your key ring after that, which was created while generating the CSR, and enter the path of the certificate or you can copy and paste the content of the certificate and click on 'Merge certificate into Key Ring' button.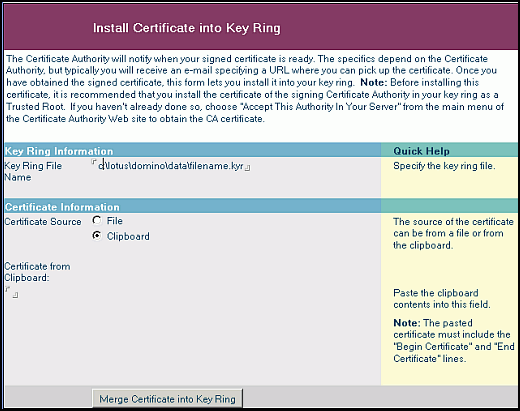 Figure : Install SSL Certificate into Key Ring – Lotus Domino
With this, you have successfully completed the process of SSL certificate installation on an IBM Domino (Lotus Domino) server.
SSL Certificate for Lotus Domino
Get maximum discounts of up to 89% on DV SSL, OV SSL, Wildcard SSL, Multi-Domain SSL and EV SSL Certificates at CheapSSLsecurity. Boost up customer trust and secure their confidential information with high level encryption.
Buy Positive SSL at $5.45 and Secure a Website in Few Minutes
Resource: