How to install a Comodo SSL Certificate in GoDaddy
Comodo SSL certificates are the perfect accoutrement for every GoDaddy cPanel website. Nothing drives home your keen intellect and fine sense of fashion quite like installing a premium Comodo SSL certificate on your server. You'll love the sense of security it provides, and the green padlock really sets off an address bar. Comodo SSL certificates pair perfectly with Comodo Secure Site Seals, creating a truly stunning aesthetic that can enrapture even the most cynical of hearts with a strong sense of trust.
If you'd like to fashion a Comodo SSL certificate on your GoDaddy cPanel website, simply follow these steps. And don't forget to shout us out on social media. #WebsiteBling #SiteGoals.
Without further ado, here's how to set up an SSL certificate in GoDaddy.
How to Add an SSL Certificate in cPanel
Before you can install a Comodo SSL certificate in GoDaddy, you first must purchase a certificate. If you already have one, then jump ahead to the following step-by-step directions. If not, check out our selection of the finest Comodo CA SSL certificates. We offer the best certificates at the lowest prices in the industry.
Purchase a Comodo SSL Certificate for GoDaddy & Save Up to 88%!
We offer the best discount on SSL certificates from Comdoo CA with certificates starting as low as $5.45 per year.
On the GoDaddy product page, click on Web Hosting, then click Manage for the cPanel account you're accessorizing.
Click on cPanel Admin.
Find the Security section and select SSL/TLS.

Under certificates (CRT), click Generate, view, upload or delete SSL certificates.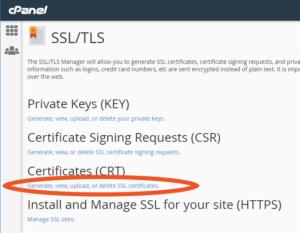 In the Upload Certificate section, browse and find the location of your Comodo SSL certificate and the click upload.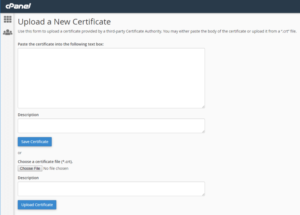 On the next page, click Go Back.
At the bottom of the SSL Certificates page, select Return to SSL Manager.
Under Install and Manage SSL for your site (HTTPS), click Manage SSL Sites.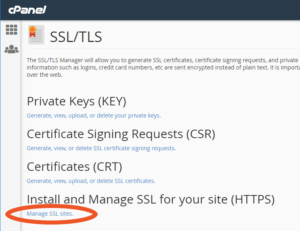 In the Install and SSL Website section, click Browse Certificates.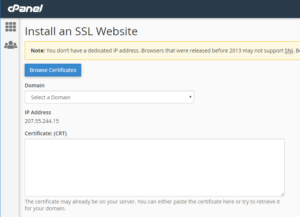 Select the requisite certificate and then click Use Certificate.
At the bottom of the page, click Install Certificate.
Finally, click OK.
Remember to "launder" your Comodo SSL certificate once every 12-24 months to keep it from expiring.
Purchase a Wildcard SSL Certificate & Save Up to 73%!
We offer the best discount on all types of wildcard SSL Certificates with DV and OV validation. We offer wildcard certificates from the leading CAs, including Comodo CA, Sectigo, Thawte, GeoTrust, and RapidSSL starting for as little as $52.95 per year.