You may face the ERR_BAD_SSL_CLIENT_AUTH_CERT error when you try to access certain websites on your Chrome browser. If your Google Chrome browser failed to check the SSL certificate of that website, you would face this error.
Keep reading if you have faced this error and wondering how to fix it.
Common reasons for the ERR_BAD_SSL_CLIENT_AUTH_CERT error.
Corrupted cache data
The website might have been blocked by a third-party app installed on your device.
Your computer's date and time are not synchronized.
Whatever may be the reason for the error, you can try the following fixes to get rid of it.
1. Update Your Google Chrome Browser
The first thing you can do as soon as you see the ERR_BAD_SSL_CLIENT_AUTH_CERT error is to update your browser. Though Chrome is prone to quite a few SSL-related errors, Google always fixes these errors immediately after they are reported. To make sure your Chrome browser is updated to the latest version, follow the steps below.
Open Chrome and click on the three-dot menu at the top right corner of the browser.
When you hover over Help, you will see a few options from which you will have to choose About Google Chrome.
Now, Google Chrome will check for updates. Follow the instructions you see on the screen to install the latest version.
Once the updates are installed, relaunch Chrome to implement the update.


2. Synchronize Your Computer's Date and Time
As mentioned above, you might face this error if your computer's date and time aren't synchronized. Follow the steps below to sync your computer's date and time.
Go to the Search box on your device and type "date" and click "Date and time settings."
Check if the options to set time and time zone are enabled. If they are disabled, turn on Set time automatically and Set time zone automatically.
Once you do that, click Sync now to synchronize your device's time and date with that of the Microsoft servers.
Before you check if the issue is fixed, restart your device and relaunch your browser.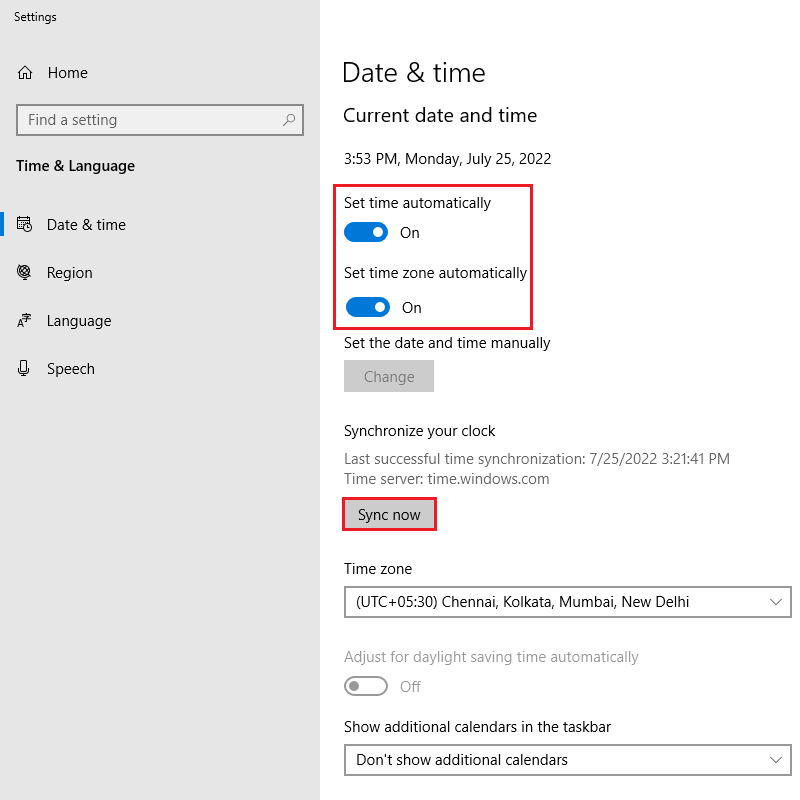 3. Clear Chrome's Browser Data
ERR_BAD_SSL_CLIENT_AUTH_CERT error could be a result of your Chrome data conflicting with the load process of the website you are trying to access. Clearing your browser's data will most likely help fix this error.
Here's how to clear the browser data of your Chrome browser.
Go to your Chrome browser and click the three-dot menu at the top right corner.
When you hover over More tools, you will see a few options; you will need to click on Clear browsing data…
On the pop-up window, click on Advanced.
Set the Time range to All time and make sure the boxes except the ones beside Passwords and other sign-in data and Media licenses are checked, which means boxes beside Browsing history, Download history, Cookies, and other site data, and Cached images and files must be checked.
Now, click on Clear data and restart Chrome to check if you still face the ERR_BAD_SSL_CLIENT_AUTH_CERT error.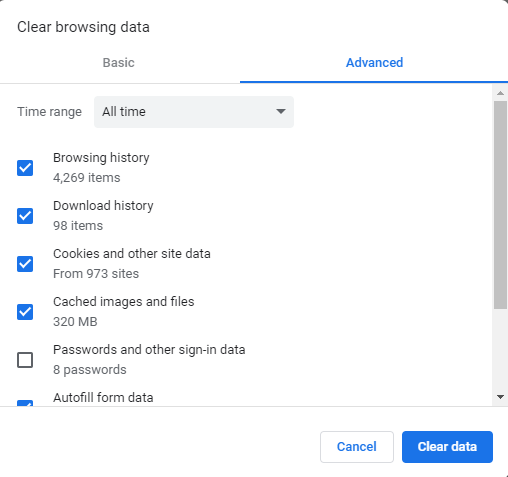 4. Check and Fix Third-Party Software Conflicts
If you have tried all the fixes mentioned above, try fixing third-party conflicts to get rid of the ERR_BAD_SSL_CLIENT_AUTH_CERT error. Antivirus software, VPN, etc., you have installed on your device could be the reason for this error. Such third-party online security apps may block certain websites on Chrome if they perceive that the particular webpage or website the user is trying to access has been compromised.
To fix the issue, you can check all the apps installed on your device and disable them. You can then enable them one by one and simultaneously check if the error still persists to figure out which app is preventing you from accessing the website. Once you find the problem-causing app, you can disable it to access the website.
5. Clean Your Computer's SSL State
You can try cleaning your computer's SSL state to fix the error ​​​​ERR_BAD_SSL_CLIENT_AUTH_CERT. Quickly clear the SSL state by following the steps below.
Go to the start menu, type "Internet Options" and press enter key.
A new Internet Properties window will pop up. Go to the Content tab and click on Clear SSL State to clean the SSL state of your computer.
You can now relaunch Chrome and try accessing the website that displayed the error message.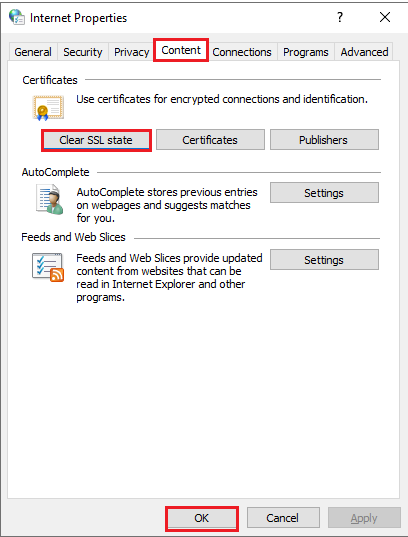 Bottom Line
In this article, we have listed the top five ways to fix the ERR_BAD_SSL_CLIENT_AUTH_CERT error. We hope it helped you get rid of the error.