Learn how Extended Validation SSL Boost up E-commerce business transactions
Why SSL Certificates?
SSL certificates secure the transmission of data between a Client (browser) and Web server.  SSL certificates create a secured environment by making use of high-end security algorithms. Once a website is secured with an SSL certificate, potential attackers find it near impossible to intercept readable data sent to or from that Web site, effectively protecting information such as login credentials, passwords, financial or credit card information, etc.
SSL Certificates have three types:
Domain Validation (DV)
Organization Validation (OV)
Extended Validation (EV)
EV (Extended Validation) SSL certificate is the most advanced security certificate, delivering up to 256-bit strong encryption length and displaying the Green Bar within the browser URL window.  The Green Bar displays the businesses legal organization name and provides easily visible proof to the site audiance of the legitimacy of the business.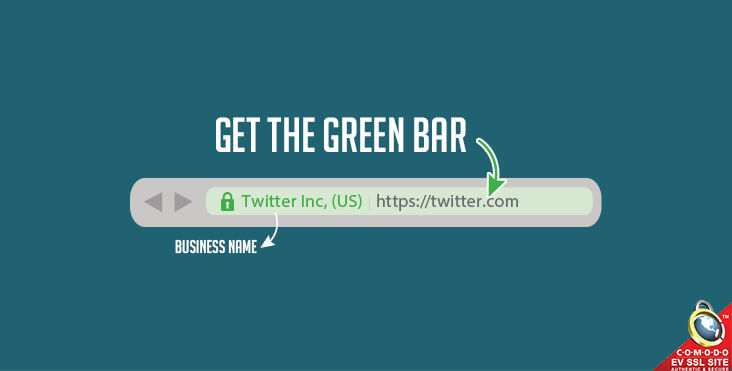 To receive an EV SSL certificate, a business has to pass through a stringent EV authentication process set forth by the issuing Certificate Authority. During this process, the business must satisfy several industry requirements to verify their legitimacy. This strong verification process helps organizations increase trust and confidence between the users which subsequently helps establish their reputation within the online community.
EV SSL Certificate Indicators
Green Address Bar
Organization name in URL
Trust seal with Certificate Authority name and Time Stamp (Optional)
Green Address Bar along with Organization Name displayed in URL are the EV SSL certificate indicators and also symbols of online trust which technically shows the users are experiencing the safest environment and their sensitive information (Name, Address, Contact Details, Phone number, Login Credentials, Banking details, etc…) are safe and no one can harm or temper it.
Trust seal is also an EV SSL indicator which displays the Certificate authority name and time stamp which help users to understand the domain is secured with a highly encrypted SSL Certificate authority & they feel free to share their personal details during transactions.
EV SSL Certificate turns visitors into customer
If you are an online e-commerce organization, your main goal is to have your visitors become valuable customers which are why the EV Green Bar can help you to increase revenue and your online reputation.  Having a strong website security presence and the trust-worthy environment is essential for your company and users.
EV SSL Certificate delivers the most trusted and secured environment that can trigger a visitor's mind and make them comfortable that the personal information they share will not be accessible by others which transform your users into your potential customers.
EV SSL Certificate for Banking & Social Media Security
Banking & Social Media networks where user's security and trust are key factors, it's important for the website admin to provide a protected environment where users feel free to share their personal and sensitive information and do financial transaction as well. As per our earlier discussion, the Green Address Bar along with the business name in URL are the EV SSL certificate indicators that deliver the highest trust level, which encourages users to understand that the website has been verified by one of the SSL certificate vendors and that their data is safe between the server & client.
EV SSL Certificate Features:
Strong & Tough Level Verification Process
256-Bit Encryption Length
Display Business Name in URL with Green Address Bar
Protect customer's transactions and financial information
Increase Customer Trust & Generates more revenue
Highest level trust and confidence
99% Web and Mobile Browser Support
Compatible with Major Web Server and Operating Systems
Available within 1 week time
EV SSL Certificates are also available with the multi-domain (SAN) functionality. Certificates Authorities such as Symantec, GeoTrust, Thawte, and Comodo all provide their variation of multi-domain SSL certificates and each have their set of additional features. Multi-Domain EV SSL Certificates allows website owners to protect more domains by applying same EV feature (i.e. Green Address Bar) under a single SSL certificate, saving the business time and money in SSL certificate management.
Important Resources