Symantec Corporation is a US technology company, which was founded by Gary Hendrix in 1982. It is a professional company dealing with anti-virus, data storage & backup solutions, SSL certificates and web security solutions.
As per W3Techs's (Web Technology Surveys) report, Symantec Corporation is the top-most SSL Certificate Authority (CA) with the market share of almost 37.3%.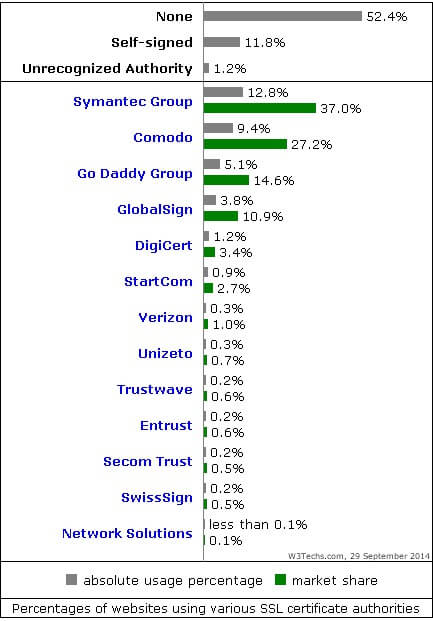 Ten Reasons That Make Symantec™ the #1 Choice:
Here are the few of the important factors, which we need to understand before choosing a Symantec™ SSL certificate
1:  SSL Industry Leader: *****
In the year 2010, Symantec™ purchased the SSL security business from VeriSign™ and today it has become one of the world's topmost SSL certificate providers.
With an SSL market share of more than 37.3%, Symantec™ becomes the SSL security giant with the highest number of satisfied customers spread across the world.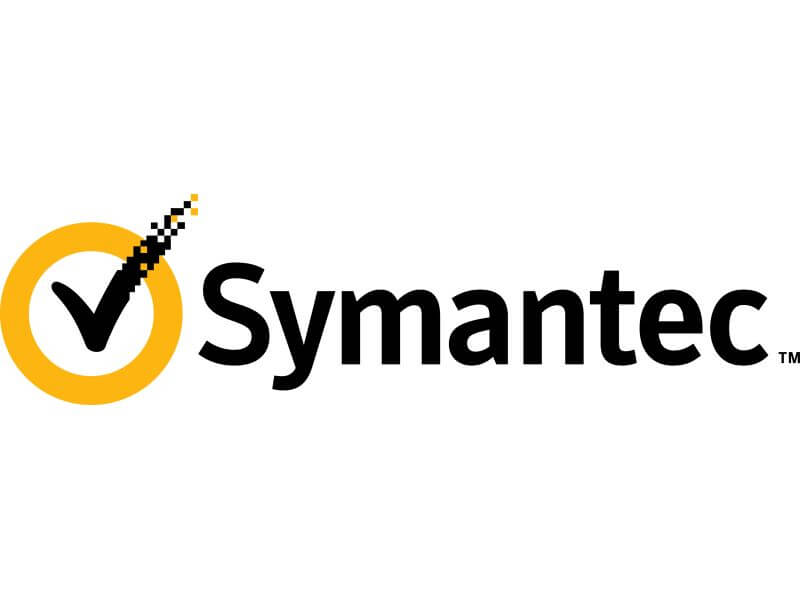 2:  #1 Encryption and Cryptography Technology: *****
Symantec™ offers industry standard SSL certificates with 2048-bit length and a strong encryption key length of up to 256-bit along with a built-in daily vulnerability scanner that enables a high level of security. It offers trusted communications and highly improves users' trust and confidence to share their sensitive information on a website.
All Symantec™ SSL Certificates are powered with the SHA-2 algorithm. It consists of a set of 6 hash function and carries hash values of 224, 256, 384 or 512-bits, which makes it very difficult for any hacker to break.
3:  Offers Multi-Purpose Solution: *****
Whether it is a question to secure small/medium/large scale website, a software/file/application, an e-commerce website or a website with multiple domains and sub-domains, Symantec™ offers perfect security solutions in all the scenarios.
Symantec™ offers:
'Safe Site Seal' to protect any small/medium/large website
Code signing certificates to protect any software, files, and applications.
EV SSL certificates to secure e-commerce websites and online business transactions
Wildcard certificates to protect websites with multiple sub-domains and SAN SSL certificates to secure the multiple domain websites
4:  Fast Verification process: ****
Symantec™ offers a fast verification process.
Once you are done placing the order and sending all the legal documents to Symantec™, their expert team will quickly verify all your documents, so that you can quickly receive your SSL certificate and install it on your server.
5:  24 x7 Quick Support Live frOm Expert: *****
Compared to other Certificate Authorities (CA), Symantec™ is way ahead in terms of providing customer support.
Symantec™ provides:
Phone Support
Live Chat Support
E-mail Support
Quick SSL Installation Guides.
Social Media Support
Symantec™ has an efficient team of expert support executives, who promptly assist their customers 24×7 via phone call, e-mail and live chat.
Symantec™ also provides quick SSL installation guides to help the users troubleshoot the SSL errors for themselves.
Customers can directly reach out to Symantec™ by using the 'Social Media' platforms. Their social media support team is active at all hours.
6:  Eliminates Browser Security Alerts and Pop-up Messages: *****
Symantec™ SSL certificates are designed to secure websites and to eliminate browser errors. This way, when a user logs on to a website protected by Symantec™ SSL certificates, the browser runs the website without displaying any 'browser errors' or warnings.
If a software/application/file is protected with Symantec SSL certificates, then during software installation process there shall be no pop-up error messages on any web-based or mobile-based platforms.
7:  Compatible with Modern browsers: *****
Symantec™ is committed to giving complete digital security for website/server/software. Whether it is an older version browser or new version modern web browsers, Symantec™ SSL certificates are highly compatible with all the browsers. They also give 99% compatibility with mobile browsers.
8:  Hassle-Free SSL Installation Process: ****
If you have purchased any Symantec™ SSL certificate, it will be easier for you to install it on your server within just a few minutes.
9:  Extended Warranty: *****
Symantec™ is very much confident about the encryption strength of its entire SSL product range, therefore it offers good warranty amount. If your website is protected with Symantec™ SSL certificate and any vulnerability or untoward activity occurs, you can report it to Symantec™ and as per the company policy, it will pay you the warranty amount.
10: Advanced SSL Tools: *****
Symantec™ offers advanced SSL tools for the customers, which helps them install SSL certificates and check the detailed status of their SSL certificates.
Symantec™ SSL Tools
1. CSR Checker
When you start installing your SSL certificate on the server, you first need to generate a CSR (Certificate Signing Request) for your server. After generating a CSR, you must check whether it is working well or not. This 'CSR Checker' helps you to check the CSR you have generated.
2. SSL Checker – To check the installation of SSL certificate.
After installing an SSL certificate on your server, you must check if it is installed properly or not. This SSL Checker tool helps the users to check the status of your SSL certificate.
Conclusion:
In the wake of daily cyber crimes, website security is a major concern for all the users. And after reading all the above reviews, we can surely say that Symantec™ is an ultimate solution for securing the websites, online business transactions, customer's sensitive information stored on the Internet and is also used to secure Software/applications/files.