Here's how you can easily resolve the 'NET:: ERR_CERT_REVOKED' Error in the Chrome browser in just 2 simple steps
If we were given a penny for every user who comes to us for an SSL error, we'd be by far the richest company in the world. But, unfortunately, we don't and we're not. However, that doesn't mean that we'll stop helping you however we can — this includes addressing the "NET ERR_CERT_REVOKED" (or "NET::ERR_CERT_REVOKED") error message that you're seeing in Google Chrome.
In this post, we'll give you some straightforward solutions that will help you fix the "NET ERR_CERT_REVOKED" error in Google Chrome. Whether you're a website owner or a website visitor, we've got you covered.
What Is the NET ERR_CERT_REVOKED Error in Chrome?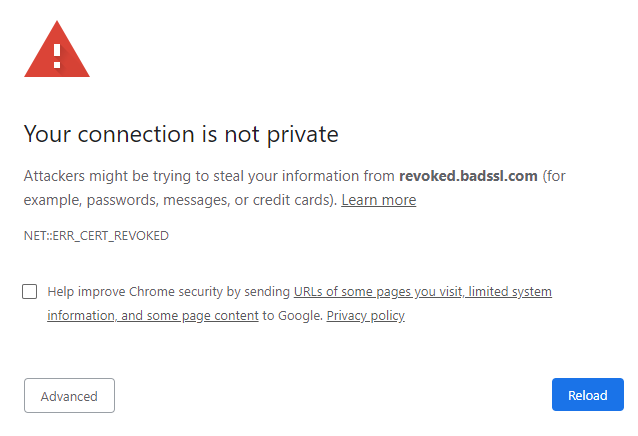 But before we move on to the solution, let's first explore what this error is and what causes it. This error — in most cases — is caused on the website side of things. Therefore, website visitors who're facing this error don't need to be concerned about something being wrong with their system. And it also means that they can't really do anything to resolve this error — they can just choose to leave the site or ignore the warning message. In the process of doing the later, you might leave yourself vulnerable to cybersecurity threats, so you MUST NOT transfer any sensitive data (such as user credentials and passwords, financial information, personal information, etc.).
How to Fix the ERR_CERT_REVOKED Error in Google Chrome (For Website Owners)
If you're a website owner or admin and Chrome displays this error message when you visit the site, it means that your SSL certificate has been revoked by your SSL certificate authority (CA). There are a few different reasons why this can happen:
You or someone may have requested an SSL certificate revocation;
The certificate appears on SSL certificate revocation lists (CRLs), or an OCSP (online certificate status protocol) query returns an "invalid" error;
The CA may have discovered a mis-issuance of the certificate; or
The private key of your SSL certificate may be compromised.
Regardless of the reason, the point here is that you must reissue an SSL certificate to get rid of the ERR_CERT_REVOKED Error and to secure your website once again. This is the only thing you need to do, and you need to do it ASAP.
How to Fix the ERR_CERT_REVOKED Error in Google Chrome (For Website Visitors)
If you're a website visitor and you're facing this error, the first thing to do is contact the website owner to inform them of the error. The error will be resolved only when they act upon it. Until the time a new certificate is installed, you can use some temporary techniques to bypass this error:
Set the Correct Date & Time Settings
The only possible issue behind this error on your front could be incorrect date and time settings. Therefore, you must make sure that your system is displaying the correct date and time. If it's not, change your settings ASAP and see whether this eliminates the error. If not, try the next option:
Bypass Certificate Revocation Warnings
In your Windows search box, type Internet Options and hit enter. A box titled Internet Properties will display. Next:
Go to Advanced tab and scroll down to the Security
Now uncheck Check for publisher's certificate revocation and Check for server certificate revocation* Note: We don't recommend this practice because it can leave you vulnerable to cyber attackers.
Hit OK.
That's it! We hope this helped you solve the "NET ERR_CERT_REVOKED" error in Chrome!
If you're in need of a new SSL/TLS certificate for your website, be sure to check out our selection of certificates from brands like Symantec, Thawte, GeoTrust, RapidSSL, Comodo CA and Sectigo! We offer the best prices on SSL/TLS certificates in the business — guaranteed. Don't believe us? Check them out for yourself:
Purchase an SSL Certificate & Save Up to 86%!
We offer the best discount on all types of SSL Certificates — DV, OV, and EV! We offer certificates from the leading CAs, including Comodo CA, Sectigo, Thawte, GeoTrust, and RapidSSL with DV certificates starting as low as $5.45 per year.