Searching for a WooCommerce SSL certificate? Here's what to know about choosing the right WooCommerce SSL certificate for your ecommerce site
You may have heard of WooCommerce SSL but not know much about it. WooCommerce is a powerful ecommerce platform for starting a business on WordPress. It's easy to use, doesn't require programming knowledge, and has great inventory and transaction monitoring systems. When people start their own WooCommerce store, they're often not aware of the security risks that come with an ecommerce business. This is where an SSL certificate comes in handy by creating a secure, encrypted connection.
Attackers are always in search of poorly configured websites so they can exploit their vulnerabilities. They're looking for ways to get a hold of your customers' personal and financial information. Hence, it's essential that you secure your WooCommerce store with the best security solutions available. One of the most crucial security tools is a WooCommerce SSL certificate for your site.
If you're wondering, "do I need an SSL certificate for WooCommerce?" then the answer is "yes" on any given day. But you don't need to blindly trust anything until you get a logical explanation as to why that's the case. So, without further delay, let's explore all the aspects of the topic of WooCommerce SSL certificates.
Do I Need an SSL Certificate for WooCommerce?
Yes, an SSL certificate is needed for all the websites. Google and all the browsers show a "Not Secure" warning in front of the domain name in the address bar for sites without an SSL certificate. When a user clicks on the "Not Secure" message, the browsers show the following warning.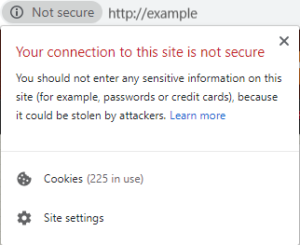 Only an SSL certificate can remove this pesky "Not Secure" warning and replace it with a padlock symbol in front of your domain name in the web address bar.
So why do browsers like Google Chrome show security warnings like this for sites that lack SSL certificates? And what are the other aspects of an SSL certificate that makes it a crucial requirement for a WooCommerce site?
The Two Main Pillars of SSL for WooCommerce and Other Platforms
There are two main functions of SSL certificates: security and identity.
Increasing Security
When a user shares any sensitive data (such as credit card/debit card details, bank account information, email addresses, phone numbers, physical addresses, etc.) on your website, that data travels across the insecure internet until it reaches your server. The data must be protected in transit because it's very easy for attackers to break the network and steal it.
An SSL certificate enables a secure, encrypted connection between customers' browsers and your WooCommerce store's server. So, no hacker (or man-in-the-middle attacker) can read, interpret, steal, and modify your customers' data. That's why all the browsers consider an SSL certificate one of the most important security features of a website and warn users whether the site they're visiting hasn't installed one.
Asserting Identity
The certificate authority (CA) verifies the applicant's identity before issuing a certificate to a website. It is the certificate authority's job to attach the website's public key to the right server's private keys where that site is hosted. That's how all the encrypted traffic reaches to the correct web address, in the right hands.
For example, if you apply for an SSL certificate for amazon.com and provide your own server's private keys, the CA won't blindly trust you and attach your server's private keys with Amazon.com's public keys. (And if they do, you can receive all the information that Amazon's customers post on the website, including their financial information! Dangerous, right?)
Fortunately, all the applicants must prove their domain ownership. The CA sends an email with a verification link on the email address like [email protected], [email protected], etc. Only an authorized person is going to have access to these email addresses. The CA might also send some files that the applicant needs to upload on some specific folder on the server to prove they have access to the server.
For organization validated (OV) and extended validated (EV) SSL certificates, the CA also verifies whether the business is legally registered, is in good standing, and has a physical address and official phone number. The CA takes all the precautions to ensure your users' data reaches the right website's server.
Other important reasons for getting SSL for WooCommerce:
• SEO: Since 2014, Google considers an SSL certificate one of its important ranking factors. If all factors are equal, the browsers will rank the site with an SSL certificate higher than the one without it. So, an SSL certificate can contribute to your website getting better search ranking.
• Warranty: The penalty for the data breach can be fatal for companies. Fortunately, all the SSL certificate providers (except for free SSL providers) offer a warranty with their certificates. Depending on the issuing certificate authority and the type of certificate you buy, warranties can range anywhere from $10,000 to $2 million!
If data theft results from an encryption failure of the SSL certificate, the CA will cover the costs (up to the warranty amount) to the victim. So, an SSL certificate's warranty works kind of like insurance — it shifts the financial liability from your organization to the CA.
• PCI compliance: The Payment Card Industry Security Standards Council has stipulated some requirements for merchants that accept, process, store, and transmit credit and debit card information online. An SSL certificate for an ecommerce site is one of those requirements.
• Customers' Trust: Would you enter a store that has a board hanging outside that says, "Beware of our employees: They might steal your money and commit the fraud"? Of course, not! In the same way, how would a website visitor trust your WooCommerce store to buy something and provide the credit card/debit card number if it is displaying a "Not Secure" sign right in front of the domain name? Such signs would negatively affect your business (potentially by a great extent!). A padlock sign and site seals (trust logos) are essential to gain customers' trust.
Where to Get a WooCommerce SSL Certificate
With all other necessary expenses like inventory, shipping, employee remuneration, marketing, etc., an additional expense of an SSL certificate would look like a big burden for new WooCommerce store owners. What people don't know is that if they buy an SSL certificate from the reseller or vendors instead of buying it directly from the certificate authorities, they can save significant money.
Take CheapSSLsecurity, for example. We sell SSL certificates with up to 90% discounts on retail prices. We can proudly say that we have the best deals and discounts available on all the digital certificates in the industry — guaranteed.
Which SSL Certificate Should I Install?
If your eCommerce business is legally registered and has a physical address, we strongly recommend installing business verified SSL certificates. i.e., organization validated (OV), or extended validated (EV) SSL certificates. Why? So that customers can be assured whom they're dealing with. Check out the validation process for all the SSL certificates to learn more about how it works.
It's a common practice to use a domain validated (DV) SSL certificate for a website that doesn't handle users' sensitive information. For example, blogs and informative sites. However, websites that deal with users' data (credit card, debit card numbers, bank account details), etc. or personal identification information (PII) should use business verified certificates.
Having said that, if your business is relatively new and isn't eligible to get an OV or EV SSL certificate, you can install a DV SSL certificate initially until you can get the appropriate documentation together to get a business validated WooCommerce SSL certificate.
If you want to secure more than one domain name under a single SSL certificate, get a multi-domain SSL certificate (starting from $18.02 per year). If you have subdomains, you need a wildcard SSL certificate (starting from $52.95 per year).
Check out our cheapest best-selling WooCommerce SSL certificates from Comodo CA's sub-brand, PositiveSSL!
| | | | |
| --- | --- | --- | --- |
|   | Domain Validated SSL Certificate | Organization Validated SSL Certificate | Extended Validated SSL Certificate |
| Certificate | Comodo PositiveSSL | Comodo InstantSSL | Comodo PositiveSSL EV |
| Encryption Strength | 256 bits | 256 bits | 256 bits |
| Validation Level | Domain Validation | Organization Validation | Extended Validation |
| Issuance Time | Within Minutes | 1-3 Days | 1-5 Days |
| Browser Compatibility | 99.9% | 99.9% | 99.9% |
| Warranty | $10,000 | $50,000 | $1,000,000 |
| Discounted Price | $5.45 Per Year | $23.51 Per Year | $69.85 Per Year |
| | Buy Now | Buy Now | Buy Now |
Purchase a Wildcard SSL Certificate & Save Up to 73%!
We offer the best discount on all types of wildcard SSL Certificates with DV and OV validation. We offer wildcard certificates from the leading CAs, including Comodo CA, Sectigo, Thawte, GeoTrust, and RapidSSL starting for as little as $52.95 per year.