While it may be overlooked sometimes, web hosting is a key factor in a successful website. Think of things like site speed, security, storage space, and website backups. These are important variables that play a big role when it comes to choosing the right web hosting approach for your business
Web hosting is an industry that has grown tremendously over the years. By 2027, the web hosting industry is expected to grow to $171.4 billion. That's a big number, and it's only going to get bigger as time goes on. As such, it's important to understand the basics of web hosting and how it incorporates in your website or business.
This article will answer questions like "what is web hosting?" and cover other related aspects of it that you should know.
What Is Web Hosting? A Quick Web Hosting Definition and Meaning
In a nutshell, website hosting is the process of using a server to host a website. When you purchase a web hosting service from providers such as GoDaddy or HostGator, what you're doing is buying:
Server space where your websites files can be stored, and
Access to tools that allow your site to be accessible on the web 24/7.
Think of web hosting in terms of renting a house: you're paying for a space where people and property can reside. Web hosting is essentially the same thing: you're renting space on a server that your website can live or store files.
Now that you know what web hosting is, you might ask "why do I need it? Why can't my website be hosted on my home computer?" Well, it technically can be, but this practice isn't recommended; it's nearly impossible to do efficiently.
Why Web Hosting Matters to Your Business and Customers

There are advantages and disadvantages to using a professional web hosting company or hosting it yourself.
While it's possible to host your website on your computer, this isn't necessarily easy or efficient. This practice also can cause a lot of issues for you and your website users.
Self-hosting is susceptible to power outages. If your website goes offline due to a technical issue or an internet outage at your home or office where the computer exists, then your website will also be offline. That's the last thing you want to happen.
Web hosting requires a strong and reliable connections and speeds. And even though you might have high-speed internet, hosting requires lots of files being sent, which requires high upload speed.
Your home IP address is dynamic. If it's constantly changing, how are your customers going to be able to find you or email you?
Self-hosting can cause a lot of wear on your computer. You'd have to keep your computer on 24/7/365 to ensure your website stays online. Hardware maintenance is the last thing you're going to want to worry about when running a website. There's a good reason why web hosting companies exist. They offer affordable and efficient options for just about everyone.
With professional web hosting by a third-party company, you avoid many of these issues because you're not using your computer to keep your site online. Furthermore, by using a web hosting provider's hardware, you're providing enhanced usability without taxing your system or incurring unnecessary costs.
Now you know why you need web hosting, which brings us to the next topic: What types of web hosting are there, and what best suits my needs?
Breaking Down the 3 Types of Web Hosting Methods
There are three main types of web hosting, and needs will vary from one organization to the next. A blog site, a small ecommerce business, and a large enterprise will have very different needs in terms of web hosting. Let's talk about the different types:
Shared Hosting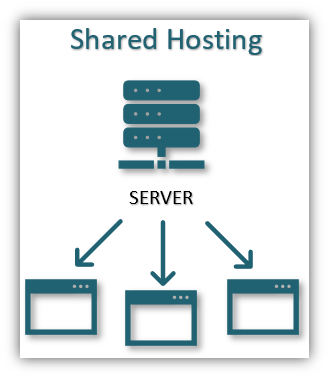 Shared hosting is where a lot of websites reside on a single server on the internet. Also known as the most economical hosting type, shared hosting is the most common type that any individual or small business will need.
Builtwith data shows that the most widely used shared hosting providers among the top one million sites are GoDaddy, DreamHost Hosting, and Shark Tech. A few other examples of popular shared hosting providers are BlueHost, Hostinger, and A2 Hosting.
Pros
Low-cost, beginner friendly, free maintenance
Cons
Slower page load times, security not guaranteed, low scalability
Best Suited For
People who are starting their first website or online business and require minimal traffic
Dedicated Hosting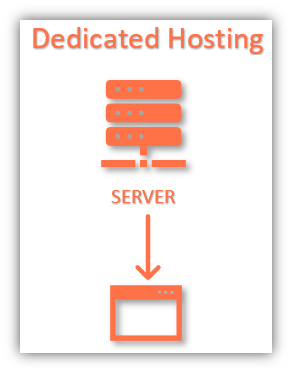 Dedicated hosting can be explained kind of how it sounds. This is when an individual website is stored on a server — i.e., no other websites are stored on it. As you can imagine, this type of hosting provides best performance, but it can also be expensive. However, if you need fast page load times, and your site needs to handle a lot of traffic (e.g., up to 100,000 visitors a month), dedicated hosting might be your best bet.
Builtwith reports that the most common dedicated hosting providers for the top one million sites are OVH, Godaddy, and Hetzner. A few examples of other popular dedicated hosting providers are HostGator, AccuWeb Hosting, and A2 Web Hosting.
Pros
Dedicated server, very fast page load times, high security, full server customization, 24/7 support (depending on the company)
Cons
Higher costs, both in terms of hardware and paying for technical staff to maintain the server
Best Suited For
Large businesses that:
Receive a lot of web traffic and want optimal page load speeds.
View security as a concern,
Value server control
Virtual Private Server (VPS) Hosting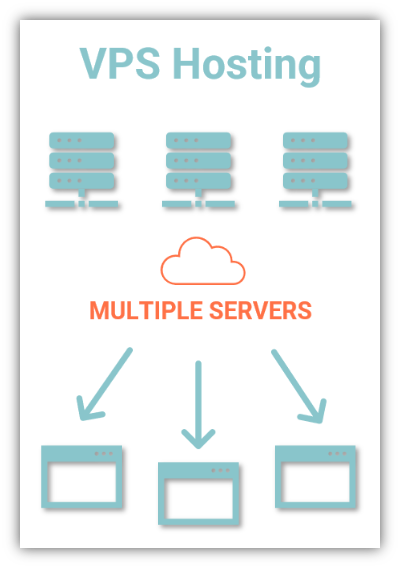 VPS hosting can be defined as cloud hosting, which consists of many computers networked together, giving you access to a lot of computing power. You purchase these resources for a portion of the price, and you can use as little or as much as you need. VPS hosting is similar to shared hosting in the sense that your website is on a server with other websites, but different in the sense that there are fewer sites sharing that space and resources. This option is good for scaling a small business to a large business without the need to switch servers.
A few examples of the most popular VPS hosting providers among the top one million sites (according to Builtwith) are GoDaddy, Digital Ocean, and Linode. Other popular examples include InMotion, A2 Hosting, and BlueHost.
Pros
Less expensive than dedicated hosting (pay for what you need), high security, flexible scalability for your business, fewer users share the same server
Cons
More expensive than shared hosting, requires some technical experience, no complete control over server
Best Suited For
This may be a good option for companies that are starting to outgrow shared hosting and need more dedicated resources and storage space.
Now we know what web hosting is, why we need it, the different types, and even the best options to suit us. Well, surely there's a bunch of web hosting services out there, which company best suits your needs?
How to Choose a Web Hosting Provider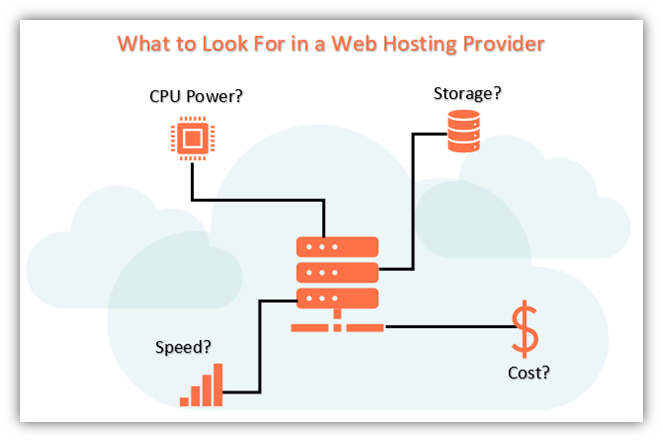 There are many factors to consider when choosing a web hosting provider. One of the most obvious is price — but choosing the right web hosting provider for your business should include more than just financial considerations. There are several other important aspects to consider.
Let's quickly explore several key factors you should consider when deciding on a web hosting site:
Types of Offered Web Hosting
Does the provider offer your desired type of web hosting?
Allowed Traffic Levels
Does the provider impose a limit on the number of visitors your site can receive?
Storage Capacity
How many files will be stored on your website and server? Does your business require a large amount of disk space?
Speed
How important is speed to your business? Think of the daily visitors you receive and the amount of images/text on your website that might require fast page load times.
Power of CPU
Think of CPU as the brains of any computer or server. Web hosting companies will offer a number of cores that are available in their service. The amount that you need will depend largely on the traffic you are receiving.
Uptime
Uptime is a measure of the amount of time a server is properly running, and is usually expressed in percentages. Most web hosting providers will offer at least 99% uptime.
Quality of Service
Do the services offered by the provider meet your needs while maintaining a cost-efficient solution?
Customer Support
How important is customer support to you? Do you require 24/7 support or are you okay with Mon-Fri support?
Scalability
Will you be able to switch from shared to VPS or dedicated hosting with ease when your business begins to grow?
Website Backups
Does your website have many moving parts? Do you run a content management system? Or, maybe you just want to ensure your site is backed up in the event of a crash or even human error. Website backups are something to think about when choosing your web hosting provider. Otherwise, you need to plan ahead and have a third-party website backup solution that's ready to roll.
Security Scanning Tools
Will your hosting provider scan for possible malware and remove it? Some companies will offer this protection at no additional cost, and some will offer this as an add-on.
When looking for the right hosting company for you, keep these factors in mind!
Final Thoughts on Web Hosting Basics
We've now covered what web hosting is, why you need it, the different types and which one suits you, and the factors to consider. Regardless of which web hosting provider you choose, the need to secure your site with an SSL/TLS certificate remains the same. Not only will it secure your site's data via secure, encrypted connections, but it'll also help with your site's search engine rankings. When you combine trusted SSL and dependable web hosting, the sky is the limit.