Obtaining your intermediate certificate is an essential step to installing your new SSL certificate
One of the most important steps associated with installing an SSL certificate is ensure your intermediate certificates are installed. This is essential for all brands of intermediate certificates, including RapidSSL intermediate certificates.
After all, for your SSL certificate to be useful, this information needs to be readily available somewhere.
Not only this, but some applications may require you to have the appropriate intermediate certificates installed before you can use them. This is a security measure on their part to ensure that all data processed between the end user and your server is encrypted, protecting it from potential attackers while it is in transit.
In any case, if your intermediate certificate didn't come bundled when you purchased your SSL certificate, we're here to help. We'll start by discussing what an intermediate certificate is and will tell you where you can find it.
What is a RapidSSL Intermediate Certificate?
An intermediate certificate is a certificate that serves as a verifier for server certificates at the website level. They stem from root certificates, which have the most trust and power out of the certificate chain.
Another reason the intermediate certificate exists is to provide an extra layer of security for root certificates. Since root certificates can control all certificates, having them issue certificates directly to individuals wouldn't be a smart move because it leaves them too exposed and the root certificate could be compromised. As a result, root certificates issue intermediate certificates to manage a certain number of server certificates, keeping the root certificates away from any potential vulnerabilities.
Why You Should Install an Intermediate Certificate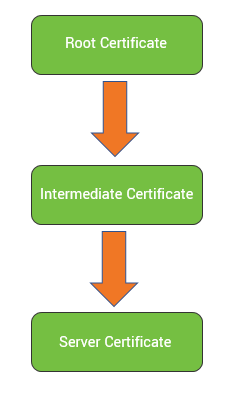 The reason you need to install your intermediate certificate along with your SSL certificate is that when the browser is trying to verify whether your SSL certificate is legitimate or not, it goes up the certificate chain: root certificate, intermediate certificate, and finally the SSL server certificate itself (sometimes called a leaf certificate). If the browser can't find the intermediate certificate, the SSL certificate will be viewed as invalid.
Now, if you're reading this article, you probably have no idea where to find your intermediate SSL certificate! Don't worry — we have a simple way you can find your certificate. If you're also not sure how to install your intermediate certificate, it's the same process as installing your regular certificate. Take a look at the different installation guides in our knowledgebase for additional information.
Where to Download Your RapidSSL Intermediate Certificate
For some intermediate SSL certificates, you would have to dig up the resources page and find the proper intermediate certificate for your SSL certificate. They often will take you to another page for a RapidSSL intermediate certificate download link. However, that's not the case when it comes to RapidSSL through CheapSSLsecurity.com. We'll give you the code right now:

—–BEGIN CERTIFICATE—–
MIIEszCCA5ugAwIBAgIQCyWUIs7ZgSoVoE6ZUooO+jANBgkqhkiG9w0BAQsFADBh
MQswCQYDVQQGEwJVUzEVMBMGA1UEChMMRGlnaUNlcnQgSW5jMRkwFwYDVQQLExB3
d3cuZGlnaWNlcnQuY29tMSAwHgYDVQQDExdEaWdpQ2VydCBHbG9iYWwgUm9vdCBH
MjAeFw0xNzExMDIxMjI0MzNaFw0yNzExMDIxMjI0MzNaMGAxCzAJBgNVBAYTAlVT
MRUwEwYDVQQKEwxEaWdpQ2VydCBJbmMxGTAXBgNVBAsTEHd3dy5kaWdpY2VydC5j
b20xHzAdBgNVBAMTFlJhcGlkU1NMIFRMUyBSU0EgQ0EgRzEwggEiMA0GCSqGSIb3
DQEBAQUAA4IBDwAwggEKAoIBAQC/uVklRBI1FuJdUEkFCuDL/I3aJQiaZ6aibRHj
ap/ap9zy1aYNrphe7YcaNwMoPsZvXDR+hNJOo9gbgOYVTPq8gXc84I75YKOHiVA4
NrJJQZ6p2sJQyqx60HkEIjzIN+1LQLfXTlpuznToOa1hyTD0yyitFyOYwURM+/CI
8FNFMpBhw22hpeAQkOOLmsqT5QZJYeik7qlvn8gfD+XdDnk3kkuuu0eG+vuyrSGr
5uX5LRhFWlv1zFQDch/EKmd163m6z/ycx/qLa9zyvILc7cQpb+k7TLra9WE17YPS
n9ANjG+ECo9PDW3N9lwhKQCNvw1gGoguyCQu7HE7BnW8eSSFAgMBAAGjggFmMIIB
YjAdBgNVHQ4EFgQUDNtsgkkPSmcKuBTuesRIUojrVjgwHwYDVR0jBBgwFoAUTiJU
IBiV5uNu5g/6+rkS7QYXjzkwDgYDVR0PAQH/BAQDAgGGMB0GA1UdJQQWMBQGCCsG
AQUFBwMBBggrBgEFBQcDAjASBgNVHRMBAf8ECDAGAQH/AgEAMDQGCCsGAQUFBwEB
BCgwJjAkBggrBgEFBQcwAYYYaHR0cDovL29jc3AuZGlnaWNlcnQuY29tMEIGA1Ud
HwQ7MDkwN6A1oDOGMWh0dHA6Ly9jcmwzLmRpZ2ljZXJ0LmNvbS9EaWdpQ2VydEds
b2JhbFJvb3RHMi5jcmwwYwYDVR0gBFwwWjA3BglghkgBhv1sAQEwKjAoBggrBgEF
BQcCARYcaHR0cHM6Ly93d3cuZGlnaWNlcnQuY29tL0NQUzALBglghkgBhv1sAQIw
CAYGZ4EMAQIBMAgGBmeBDAECAjANBgkqhkiG9w0BAQsFAAOCAQEAGUSlOb4K3Wtm
SlbmE50UYBHXM0SKXPqHMzk6XQUpCheF/4qU8aOhajsyRQFDV1ih/uPIg7YHRtFi
CTq4G+zb43X1T77nJgSOI9pq/TqCwtukZ7u9VLL3JAq3Wdy2moKLvvC8tVmRzkAe
0xQCkRKIjbBG80MSyDX/R4uYgj6ZiNT/Zg6GI6RofgqgpDdssLc0XIRQEotxIZcK
zP3pGJ9FCbMHmMLLyuBd+uCWvVcF2ogYAawufChS/PT61D9rqzPRS5I2uqa3tmIT
44JhJgWhBnFMb7AGQkvNq9KNS9dd3GWc17H/dXa1enoxzWjE0hBdFjxPhUb0W3wi
8o34/m8Fxw==
—–END CERTIFICATE—–
Easy-peasy lemon squeezy. Now, all you have to do now is copy and paste it. That's it!