Chrome 68 has been launched, and it comes with a warning for HTTP sites
Google has just released a stable update for Chrome 68, and it brings something that we've all been waiting for— 'Not Secure' warning for all HTTP sites. Google has been pushing for HTTPS under its 'HTTPS Everywhere' campaign, and this move could turn out to be a real hammer blow to the usage of HTTP.
From now on, all users browsing through Chrome 68 will be shown a "Not Secure" warning when landed on an HTTP page. Keep in mind that you may not have received Chrome 68 update right now as it takes around a week for Google to get the update across all platforms and regions.
Here's what Google wrote on its official blog:
Security has been one of Chrome's core principles since the beginning—we're constantly working to keep you safe as you browse the web. Nearly two years ago, we announced that Chrome would eventually mark all sites that are not encrypted with HTTPS as "not secure." This makes it easier to know whether your personal information is safe as it travels across the web, whether you're checking your bank account or buying concert tickets. Starting today, we're rolling out these changes to all Chrome users.
From now on, Google Chrome (v68) will show this warning on HTTP websites: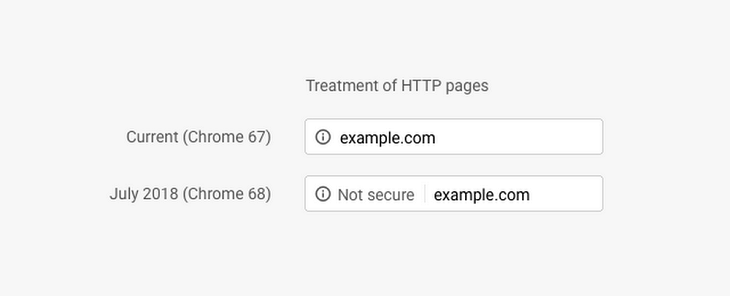 The usage of HTTPS is higher than ever. However, there's still a long way to go as there is still a good part of the internet still using the age-old, insecure HTTP protocol.
According to Cloudflare, 542,605 websites out of top 1 million don't serve their users over HTTPS. Therefore, a large number of internet users will be shown this 'Not Secure' warning. It's quite shocking to see many reputed platforms and organizations not implementing HTTPS
The majority of the Internet's top 1M most popular sites will show up as "Not Secure" in @GoogleChrome starting July 24th. Make sure your site redirects to #HTTPS, so you don't have the same problem. @Cloudflare makes it easy! #SecureOnChrome https://cfl.re/2LA4t9i pic.twitter.com/r2HWkfRofW

— Cloudflare (@Cloudflare) July 23, 2018
HTTP vs. HTTPS: What's the Difference?
HTTP is what lies in the foundation of the web. It's an age-old protocol facilitating data communication over the internet. As good as it sounds, there is a big downside to it. The data transfer through HTTP is done in plain text. This allows cyber-criminals to intercept, see and tamper with the data. If the data contains sensitive information such as credit card details or passwords, he/she could wreak havoc.
On the other hand, HTTPS is the secure version of HTTP as turns the plain text into indecipherable format through encryption. Therefore, it thwarts attempts of eavesdropping and data manipulation. Google wants to encrypt the entire web so that such attacks can be curbed.
(Click here to learn more about HTTP vs. HTTPS)
What to do if I have an HTTP website?
Google Chrome is by far the most popular browser on the planet. And you could face some serious implications if you have an HTTP website.
If you're in charge of a website that is still using HTTP, you need to get an SSL/TLS certificate to migrate it to HTTPS. An SSL/TLS certificate is what enables encryption. You need to choose an SSL/TLS certificate based on a variety of factors. It's okay if this territory is unheard of for you. Getting an SSL certificate is not as hard as it sounds. Here's the guide on how to get an SSL certificate. And don't forget to redirect your HTTP pages to HTTPS using 301 redirects.
How to update to Chrome 68?
Using Chrome 68 is the best thing you could do to protect yourself from insecure websites. However, you'd need to update your Chrome for that. Upgrading to Chrome 68 is a pretty simple process, all it takes is a few clicks. Here's how you can do it:
Open Google Chrome
Click on the three dots you see in the top-right corner
Move the cursor to Help >
Click on About Google Chrome
The update should start automatically.
Importance of having a HTTPS website
Finally, Chrome will display Not Secure for the website that don't use SSL certificate to secure their user's sensitive information. Hence, the better option is to get an SSL that protects both website and user's information.
Shop for SSL Certificates at $5.45