Whether you have a site for social media, e-commerce, banking, government or just a simple blog, a user's security plays an important role in the success of that website. If you win a user's trust and confidence, then you have more than likely won their business or their membership.
In the era of smart phones and tablets, millions of users have the web at their fingertips 24 hours a day, 7 days a week. This means they are only a few seconds away from searching for your product, website, services, etc. Search engines have never been more available then they are now.
With so many people worldwide relying on search engines to find the solution they're looking for, wouldn't you, as a website owner, want a trusted logo to display right next to your listing on a search engine? Wouldn't you want to do everything you could to differentiate yourself from the competition? Well Symantec Seal-in-Search offers this very feature.
All Symantec SSL Certificates are built-in with Seal-in-Search feature.
What is Symantec Seal-in-Search?
If a website is secured with a Symantec SSL Certificate, that website will display the highly recognized and trusted Norton secure seal alongside it on a search results page. This feature in search engines indicates that the website is secured and verified by Symantec and thus, is safe to click on and do business with.
AS per Baymard Institute's Survey report on Web Security Trust Seals, Norton Site Seal (Powered by Symantec) is most popular than others.
Norton Site Seal – Trust Level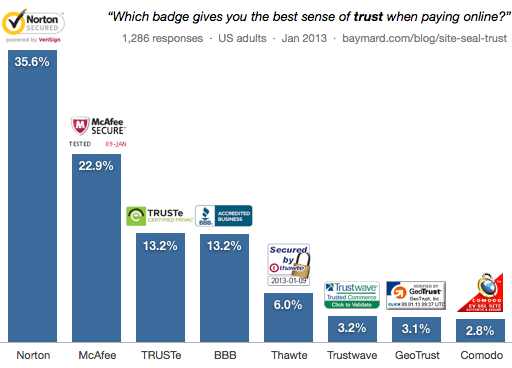 How does Seal-in-Search help?
(1) Improves user trust: Symantec's Seal-in-Search improves user trust, as it indicates that your website is secured and verified by Symantec and your business is legitimate. The Norton Secure Seal is the most recognized trust deal in the world – wouldn't you want to associate yourself with a brand like that?
(2) Leads to Instant Clicks: Once you secure your website with a Symantec SSL, the seal-in-search feature will be activated automatically. If a user/customer browses for something on a search engine and comes across your website, they will quickly recognize your business is protected & verified by Symantec, which will encourage that user to click immediately.
(3) Boost up Visitors and Conversation Rate: After visiting your website the user understands you are offering the safest environment to secure his data and there will be no hassle to share his/her sensitive data while doing financial transaction or adding personal details. So Seal-in-Search turns visitors into lead and increases website visitors and conversations rate.
The Seal-in-Seal feature is compatible with popular search engines such as Google, Yahoo, Bing, Ask, and more.
How do you Activate the Seal-in-Search Feature?
The Symantec Seal-in-Search feature is available through AVG. Millions of users are using AVG antivirus and its LinkScanner plug-in. Any User can use this free LinkScanner Plug-in, they only need to install it one their relevant web browsers (Chrome, IE, Firefox, Safari, etc.). Once the plug-in is installed, Seal-In-Search will be activated and, for each search result, the Norton Secure Seal will be visible for Symantec SSL protected websites.
How Symantec Seal-in-Search will look in search engine?
Just imagine your website displayed as you see below. This is how Symantec's Seal-in-Search appears on search engines, like Google.
Symantec Seal in Search