Install SSL Certificate on cPanel/WHM within minutes
cPanel is a UNIX-based web hosting control panel software. It is the most popular web hosting control panel used by millions of website users across the world. It was skillfully created to manage a website efficiently using a graphical, web-based interface. With cPanel, a user can easily manage their e-mail accounts, databases, secure FTP, Applications and several other aspects of their websites.
Here, we have put together an easy-to-follow guide for you to install an SSL certificate on a cPanel/WHM. Now this installation process tends to vary based on the different versions of cPanel. Here's a common installation process of SSL on cPanel/WHM.
Step 1: Download and Extract SSL
Download your SSL certificate from the *.zip file received in your mailbox. Extract these files to your server directory where you normally keep your certificates.
This *.zip file contains your SSL certificate, Intermediate certificate, certificate bundle and other important documents.
Step 2: Install Certificate
Login to your cPanel with correct UserID and Password.
Click on the SSL Manager in cPanel (SSL Manager will allow users to generate certificate, certificate signing request (CSR) and keys).
When you will click on SSL manager you will see a dialog box with 3 textboxes. It will look like this: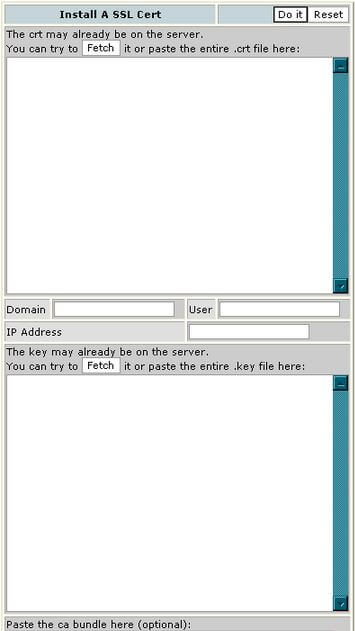 Open your certificate in notepad or other text editor and copy all content. In the first box paste all the content of your certificate. Make sure you do include the 'BEGIN' and 'END' tags.
In Domain, Username and IP Address text boxes you need to fill incorrect information. Domain and IP Address may get filled automatically (It depends on your cPanel version).
In the middle text box, you have to add the correct private key that was generated by CSR (Certificate Signing Request).
If the server recognizes your certificate then the private key will be filled automatically.
You can click on 'Fetch' button which will automatically get the private key
If none of these 2 options work then you need to copy and paste your private key manually.
Open your intermediate certificate using notepad or another text editor, copy all the content and paste it in the bottom text box.
Note 2: In case you get a message on your screen that 'http has failed to start', then you will have to remove your certificate and start the process again. Or install an SSL certificate directly on the Apache web server.
Your SSL certificate is now installed on your cPanel/WHM.
If you have any problem with installation on cPanel, then you can visit this to install an SSL certificate on Apache Web Server directly.
Click here to get Online SSL Tools to help you with SSL certificate Installation Process for Free from CheapSSLSecurity.
Important Resources:
Before Installing SSL on cPanel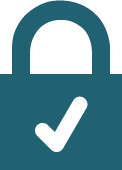 cPanel/WHM only accepts SSL Certificate from a genuine and trusted SSL Certificate Authority. Buy trusted SSL Certificate from at a cheap price with heavy discount rates.