Certificate authorities play a pivotal role in the security of your online business. They're responsible for issuing the digital certificates that secure your website, assert organizational identity and protect the integrity of your data in transit — all of which build trust with web clients and your customers. This article will compare two reputable CAs — Thawte vs DigiCert
Thawte vs DigiCert — this comparison boils down to a battle between two of the industry's most reputable certificate authorities (CAs). Who will gain your trust (and business), and why do they deserve it?
An SSL certificate is a necessity whether you already own a website or you're launching a new one. You can choose from many well-known certificate providers to decide who you can trust to help you secure your website. With so many options available in the market, we understand that it can feel a bit overwhelming. You want to find the right certificate from a trustworthy provider that offers solutions that won't put a huge dent in your bank account. We get that and also know you need useful information about these different CAs and their offerings to make an informed decision.
That brings us to the point of this article. Here, we'll explore and compare two important players in the SSL/TLS industry — Thawte and DigiCert — to help you make an informed decision about what's the best CA for your website's security needs.
Thawte vs DigiCert: A Brief History
Both Thawte and DigiCert are well-known, reputable companies. However, there is a huge difference between the way both the companies were established and how they became the market leaders of the SSL certificate market.
Thawte's official website says the South African company was in 1995. According to the company's website, Thawte became the first CA to issue SSL certificates to public entities outside the United States. This armed the company to conquer a 40% share in the global market. Another CA, Symantec, acquired Thawte in 2000.
DigiCert was founded in the early 2000s in Lehi, Utah (U.S.) by Ken Bretscheinder (according to an interview in Attractions Management magazine). Today, DigiCert has offices worldwide — in Australia, India, Ireland, Japan, South Africa, Switzerland, and the U.K. They've since acquired Symantec in 2017 and QuoVadis in 2019)
Since DigiCert acquired the TLS/SSL and PKI businesses from Symantec, this means that Thawte is now a DigiCert brand. So, whether you choose a Thawte-branded SSL/TLS certificate or a DigiCert-branded one, you're technically getting a DigiCert certificate either way.
Thawte vs DigiCert Certificate Comparison: Technology and Features
Meet the same encryption requirements with their products,
Be compatible with most commonly used browsers, and
Meet the same validation requirements.
Thawte vs DigiCert Certificate Comparison: Which Brand Name Is More Trustworthy?
Nowadays, the online market is full of options when it comes to shopping decisions. We have thousands of choices for even the simplest things — everything from a streaming service to an automobile has alternatives begging for a customer's attention. In this sea of choices, it becomes imperative that you buy from suppliers whose brands you trust. Perhaps, this is the reason companies are spending millions on the development and maintenance of their brands.
This brings us back to the comparison of Thawte vs DigiCert. According to the most recent data from W3techs,' which analyzes the market share of the top 10 million websites, Thawte represents less than 0.1% market share, whereas DigiCert has 16.5%. This makes DigiCert much more widespread and accepted in the world and, hence, more trustworthy.
As mentioned earlier, both brands have long histories in the SSL/TLS industry are among the most trusted companies to provide SSL certificates at some point. But one of the biggest advantages of having a DigiCert certificate is the fact that they provide their customer with massive warranties and the option of choosing which site seal they want to use (with select products).
When you purchase a basic DigiCert certificate from CheapSSLsecurity.com, you get a DigiCert Secured trust seal with it. But if you choose a certificate from the Secure Site or Secure Site Pro product lines, you can choose between the following site seals:
Norton Secured site seal,
DigiCert Secured site seal, or
Norton is a brand better recognized by millions of people across the globe. The Baymard Institute conducted a research study in 2021 where it asked Americans the following question: "Which badge gives you the best sense of trust while paying online?" The graph below shows the results of this survey question: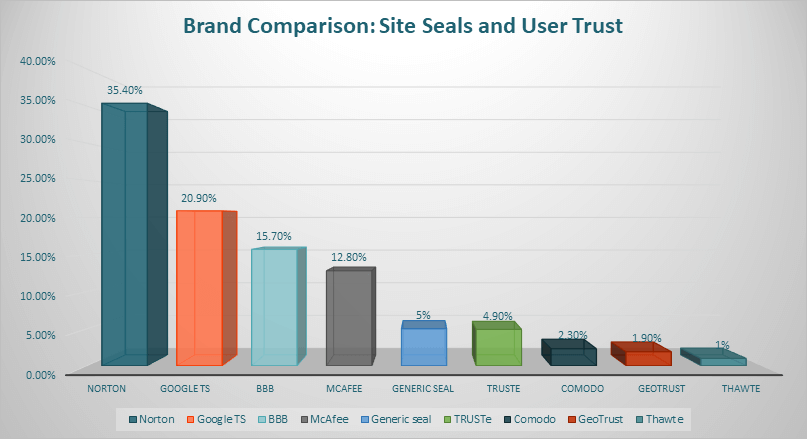 There is a clear difference between the percentage of people who trust Norton's site seal vis-à-vis Thawte. It is noteworthy that Baymard Institute reported similar results in 2020, 2019, 2016 and 2013. However, this doesn't mean that DigiCert's site seals aren't good — they're great. It's just that they're newer and are different. For example, the DigICert Smart Seal incorporates your brand's logo into its dynamic and animated design. This brings trust to a whole new level when customers see your verified information incorporated into your site's trust seal.
The DigiCert Smart Seal is just one example of why many of our customers favor DigiCert over Thawte. And, how can you ensure that your SSL certificate comes with the specific site seal you want? Simply submit a ticket on CheapSSLSecurity.com when you make your DigiCert Secure Site or Secure Site Pro certificate purchase, and we'll take care of the rest.
There is a direct relation between trust placed on the website and sales recorded. Baymard also observed that 17% of the consumers reported abandoning their shopping carts because they didn't trust the website with their credit card details.
Thawte vs DigiCert Certificate Comparison: Technical Details
The following table shows the comparison between the technical details of both the certificates:
| | | |
| --- | --- | --- |
| Features | Thawte SSL Certificates | DigiCert SSL Certificates |
| Browser Compatibility | With 99% of browsers & mobile devices | With 99.9% of browsers and mobile devices |
| Encryption | 256-bit AES symmetric encryption | 256-bit AES symmetric encryption |
| Public Key Encryption Support | 2048-bit key | 2048-bit key (expandable to 3072 bits and 4096 bits) |
| Certificate Reissuances and Replacements | Lifetime of certificate | Lifetime of certificate |
| Site Seals | Thawte trusted site seal | Norton Secured, DigiCert Secure, or DigiCert Smart Seal |
| OS Compatibility | Latest versions of Windows, MAC OS, Linux, etc. | Latest versions of Windows, MAC OS, Linux, etc. |
| Mobile OS Compatibility | Android, iOS, Windows Mobile, Blackberry OS, etc. | Android, iOS, Windows Mobile, Blackberry OS, etc. |
| Warranties | $500,000-$1.25 million | $500,000-$2 million |
| Refund Policies | 30-day money-back policy | 15- or 30-day money-back policy |
| Vulnerability Scanning | No | Yes, with some plans |
| | Shop Now | Shop Now |
Questions About Thawte and DigiCert Certificates
How Long Does Website Validation Take?
In the world of online marketing and sales, time lost often equates with lost sales. The time taken to validate your website will depend on the type of validation your choice of SSL/TLS certificate requires.
There are three levels of validation:
If you want to validate your domain alone, you can opt for this type of certificate. Both Thawte and DigiCert take a few minutes to issue this type of validation. Domain validation is an option for the following certificate types:
Single-domain SSL/TLS certificates,
Organization validation is an excellent choice for people who wish to have more in-depth validation than what DV certificates afford. This type of validation, which generally takes 1-3 days, also provides light business validation in addition to domain control validation. Organization validation is available for these certificate categories:
Single-domain SSL/TLS certificates,
Multi-domain SSL/TLS certificates,
Wildcard SSL/TLS certificates, and
Multi-domain wildcard SSL/TLS certificates
This is the most extensive validation one can have and is designed for organizations that want to provide the greatest identity assurance. Validation for EV certificates generally takes more time (one to five days) than OV certificates — regardless of the company you choose — because of the in-depth organizational verification processes that are required.
EV certificates are available in the two following options:
Single-domain SSL/TLS certificates and
Multi-domain SSL/TLS certificates.
The CA/Browser Forum (CA/B Forum) prohibits the issuance of extended validation certificates for wildcard-related SSL/TLS certificates.
Which Company Offers the Most Competitive Prices: Thawte vs DigiCert
While it's important to cut costs, some things are more important than saving a few bucks — namely, providing security, reliability and trust to your customers. Price and value are two very different things when you are out to buy something as important as an SSL/TLS certificate. The basic pricing offered by Thawte is much lower than that of DigiCert, but the warranty provided by DigiCert is higher than Thawte.
Although their certificates are generally pricier, DigiCert's reputation extends beyond that of Thawte. This is why they're the go-to SSL/TLS certificate provider for companies like Cloudflare, Ikea, and Spotify. Let's quickly compare one of the plans. The Thawte Wildcard SSL certificate will cost you $211.58/year and the DigiCert wildcard SSL certificate will cost you $527.08/year. You can compare the pricing of your selected plan on CheapSSLsecurity.com.
How to Choose Between Thawte and DigiCert SSL Certificates
Despite the fact that both the companies have their own merits, you can safely say that the overall SSL standards followed by both the companies are the same.
DigiCert looks really expensive in comparison to Thawte at first glance. Having said that, the brand name and the reputation of DigiCert are quite higher than that of Thawte and that matters a lot when the trust of the clients is concerned. It is not an accident that 89% of the Fortune 500 companies prefer DigiCert for their website security certificate purchases.
If you are looking to save a buck, Thawte might be a good option. But if you are looking for high-value assurance and extra perks, like a DigiCert Smart Seal, then DigiCert is the best option.